LM Is Dishing Out Pasta Morning, Noon & Night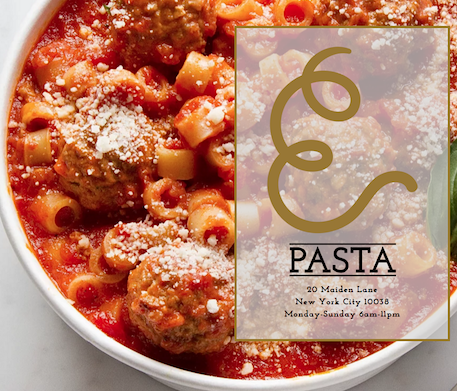 By: Owa Kankhwende
When living in New York, it's easy to be bombarded on all fronts by cuisines of many cultures. Elio Albanese's E Pasta is set to bring you his specialty of classic Northern Italian cooking.
Elio had humble beginnings in the restaurant business as a busboy at Lower Manhattan's Taormina, eventually becoming a Maitre D'. Nowadays he owns a number of successful Italian restaurants and boasts a 25-year industry career.
E Pasta offers breakfast, lunch, and dinner, with a plentiful assortment of dishes. Breakfast meals are served with authentic Tuscan bread and traditional Italian ingredients. You can pair your breakfast with a cup of coffee to stay warm this winter.
Amongst the lunch and dinner options are the signature dish, Eli-O's, a pasta with anelleti, marinara, meatballs, and parmesan. There are also fun surprises like the Kale Raspberry, a salad of baby kale, walnuts, raspberry dressing and goat cheese and the Miller's Wife Pasta, a signature 30-foot spaghetti ala vodka and meatballs.
Pay E Pasta a visit this winter and warm yourself up with great Italian cooking. The restaurant is located at 20 Maiden Lane and is open Monday to Sunday from 6 AM to 11 PM.