Take A Magical Journey To The Top Of The World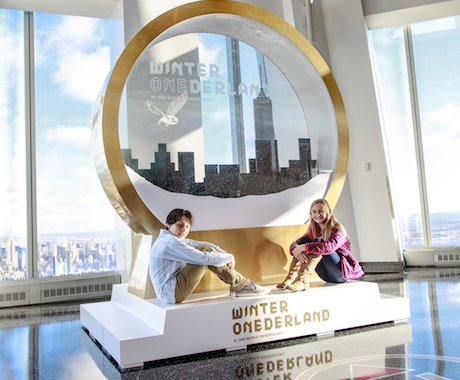 By: Owa Kankhwende
We've all had those moments of trying to get the perfect New York view. Whether you were in that apartment that overlooks the river or on the balcony of a high rise restaurant.
This holiday season, One World Observatory provides that and more. Their Winter ONEderland is a transformation of the Observatory into a snowy installation with New York as the backdrop.
The experience starts at the ground floor with Ollie, the frosty owl mascot. Ollie will guide you from his home in the forest through the world to the Winter Onederland. The entrance to the destination begins at the mysterious Glacier Cave, the magical, glittery and icy underground that leads you to the elevator's Snowy SkyPod Journey. The SkyPod travels to the Observatory at a speed of about 23 miles per hour. The elevator's CGI video is a special treat not to be missed.
Once at the Observatory, the whole of New York is yours to take in., There is Santa's Village where you can surprise the kids with an unforgettable experience. There is the Statue of Liberty, the views of up to four states and the city's iconic skyscrapers. Enjoy these memorable views through the lens of the Magical Frosted Windows, and be sure not to miss the Giant Snow Globe which showcases the city's skyline.
Looking for a bite or drink in a festive atmosphere? Cap off your visit at One Dine and One Mix, which feature holiday-themed menu items!
So whether it's for that perfect holiday view of the city, or to catch up with Santa, immerse yourself in the Winter ONEderland that is New York  at One World Observatory.
Tags:
food + drink
,
holiday campaign
,
shopping