Holiday Happenings in Lower Manhattan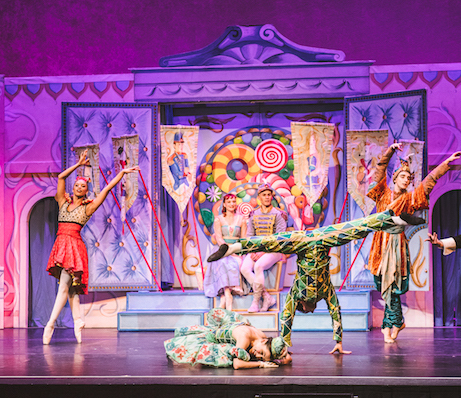 Denise Courter, founder of FiDi Families, gives us a look at some of her favorite holiday events in Lower Manhattan
By: Joseph Ferris
The holiday season is here and there's no better place to celebrate than Lower Manhattan! Fun, festive activities and events are everywhere. With three menorahs, two Christmas trees, a ONEderland, and a lot in between there's something for everyone.  Check out some of the magical happenings in our neighborhood this season (in chronological order):
Santa at Brookfield Place– Nov. 23 thru Dec. 24
Before his big night, Santa is spending some time in Lower Manhattan. He is setting up shop at Brookfield Place. His Winter Wonderland features a special children's activity session to enjoy before meeting the jolly man in red. On the morning of Dec. 9, there will be a Sensory-Friendly Santa with Autism session for children with all spectrums of need. On Dec. 2, Santa Paws allows you to bring your four-legged friend to meet Santa. Dogs must be under 25lbs.
Holiday Songwriter Series at Westfield World Trade Center – Nov. 26 thru Dec. 7 @ 12:30p
Lunchtime becomes concert time at the Westfield World Trade Center's Holiday Market this season with programming by BMI, the the global leader in rights management that's located here in Lower Manhattan.  BMI has lined up ten different artists to perform a mix of holiday carols, classics and originals at the Oculus. The free performances will feature the Brooklyn Interdenominational Choir, Cole Davis and Ali Caldwell, among others.
Winter ONEderland at One World Observatory – Nov. 26 thru Jan. 7
Experience a magical wintry journey as you make your way to the top of Lower Manhattan's One World Observatory. For the second year running, One World will be transformed into a Winter ONEderland with holiday decorations.  Upon entering you'll be greeted by Ollie the Owl who will take you across the globe while exploring an underground ice grotto and up to the top floor on the Snowy SkyPods. Once you arrive at the Observatory you'll find opportunities for a selfie in front of the colossal snow globe and a chat with Santa.
Luminaries at Brookfield Place – Nov. 28 thru Jan. 4
The Winter Garden is once again home to Luminaries, a wondrous canopy of glowing lanterns that are hung high above the Garden's Palm Trees. The lanterns are designed to represent the holiday traditions of sharing, giving and community. Guests can help give back to the community by "sending a wish" to the lanterns by visiting one of the exhibit's glowing wishing stations. Thanks to a partnership with the GRAMMY Museum, Arts Brookfield will donate a $1 to support music education (up to $25,000) for every wish made. Take a 360° tour of Luminaries and then see the real deal in person!
The 95th Annual New York Stock Exchange Christmas Tree Lighting – Nov. 29, 2:30-6p
Come down to Wall Street to kick off the Christmas season with the Stock Exchange's Annual Christmas Tree Lighting. Enjoy performances by the Rockettes, Ray J and the cast of Anastasia the Musical. It's also your chance to meet the Macy's Santa, The Grinch and Mr. Met. At 5p, the tree will be lit by the cast of Showtime's Billions during a taping that will be used on a future episode of the show!
The Nutcracker at Brookfield Place's Winter Garden – Nov. 30 thru Dec. 2, times vary
Spend an hour with the New York Theatre Ballet as they bring Tchaikovsky's The Nutcracker to life. This holiday ballet is free and perfect for children ages three and up. There are evening performances on Friday and Saturday with matinees on Saturday and Sunday. Seating is first-come, first-served. Make sure to arrive early to ensure a spot!
Simon's Journey: A Hanukkah Miracle – Dec. 2 @ 11a
Bring the whole family down to the Museum of Jewish Heritage for the debut of the new children's play, Simon's Journey — A Hanukkah Miracle. Join Simon as he makes his way to America on a trip that is marked by shipwrecks, icebergs and other obstacles. Along the way Simon and a friendly polar bear he meets celebrate the spirit of Hanukkah. Tickets are $30 per family. Arts and craft and brunch will follow the play.
Stars United at The Rink at Brookfield Place – Dec. 2 @ 6p
Olympians take to the ice for an evening of thrilling skating performances. Co-hosts Melissa Gregory and Denis Petukhov are joined by Kaetlyn Osmond and Jeremy Abbott for a spectacular show of live music and dancing. After the show, you will have a chance to share the ice with the American Olympians. The rink is open throughout the season and a 90-minute skating session costs $15 and $5 for skate rentals. Classes from intro level to private lessons are also available.
Bowling Green Menorah Lighting – Dec. 2-10
Every night of Hanukkah, the Festival of Light will be celebrated in Bowling Green Park with the lighting of a 15-foot tall Menorah.
Seaport District's Holiday Block Party with Tree Lighting – Dec 3, 5-7p
Make your way to the Seaport for a festive block party. Come by after work for arts and crafts, a 10 Corso Como-inspired photo opportunity at the Garden Bar and free hot chocolate! A Live DJ will soundtrack the countdown to the Seaport's tree lighting. Select Seaport restaurants and bars will be offering food and drink specials. There will also be Santa's Helpers handing out gift cards worth anywhere from $10 to $1,000!
Seaport District's Menorah Lighting – Dec. 4 @ 6p
The Festival of Light arrives at South Street Seaport. Stop by Front Street for live music from Grammy-nominated clarinetist David Krakauer, food and crafts for families as well as a blessing and lighting of the Menorah.
Trinity Church Presents Handel's Messiah – Dec. 13-14, 16-17
Go for Baroque at Trinity Church's performance of Handel's Messiah put on by the congregation's Choir and Baroque Orchestra, under the leadership of Julian Wachner. The event is ticketed and will be held at St. Paul's Chapel due to restoration work being done at Trinity Church. Tickets start at $25 (monitor-only view) with full-view seats costing $100.
Winter Village at the Seaport's Pier 17 – December 14
Visit the Rooftop at Pier 17 this season and you'll be transported to a charming winter village. Lace up your skates and take to the rink. Learn how to play broomball and explore the Village's cozy warming huts. Local residents can score discounts on admission. 
Tags:
arts
,
BMI songwriters series
,
Brookfield Place
,
festival of light
,
food + drink
,
hanukkah lighting
,
Holiday 2018
,
holiday campaign
,
holiday events
,
holiday market
,
holiday season
,
luminaries
,
Museum of Jewish Heritage
,
personal and professional services
,
seaport district
,
shopping
,
skating performances
,
The Nutcracker
,
tourism
,
westfield workd trade center
,
winter village