Looking To Limit Your Out-Of-State Travel? Book A Staycation Downtown And See What It Has To Offer.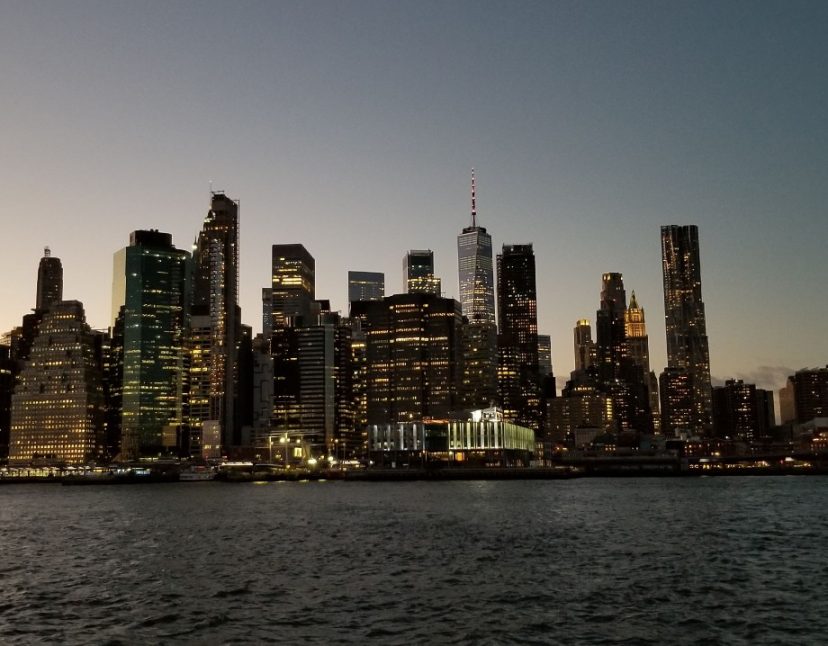 With the pandemic continuing to surge around the country, you might be looking to limit your out-of-state travel. But that doesn't mean you can't take a little trip, even if it's just a subway ride to Lower Manhattan. 
Here, you'll find plenty of safe and luxurious places where you can base your stay. The Beekman, The Four Seasons and The Conrad, for instance, are all still dedicated to serving their guests while taking every precaution to minimize the spread of COVID.
Lower Manhattan is also home to some first-rate dining, offering up everything from culinary luminaries like The Fulton, Crown Shy and Brooklyn Chop House to more casual standbys like Pisillo and Blue Park Kitchen.
And if you're looking for world-class attractions and culture: there's history at Fraunces Tavern Museum, incredible views at One World Observatory, the 9/11 Memorial & Museum, along with shopping at the Oculus and Brookfield Place, where you can browse high-end couture, funky small brands and everything in between. Curious to see what a 36 hours in Lower Manhattan might look like? We've got you covered.
Morning
Check in and drop off your bags at the Four Seasons Hotel New York Downtown (27 Barclay Street). Though check-in times vary, staff is always helpful and will accommodate your morning arrival. This way you can explore the town unburdened by luggage, even if your rooms aren't ready. 
Then, hit up One World Observatory (117 West Street), open 11a–7p on weekends. Be sure to reserve tickets in advance, and prepare for stunning 360-degree views of Manhattan, the New York Harbor, the rivers and New Jersey.
Lunch
Grab a bite on one of New York's most historic streets, replete with all sorts of options. Feast on barbecue at Route 66 Smokehouse, grab a pint at Ulysses or just pick up an old-fashioned slice at Adrienne's Pizzabar.
If you're looking for a lunch on the go, beloved lunch spot Taim (75 Maiden Lane) offers satisfying servings of falafel sandwiches, cauliflower shawarma, sabich, tasty fries and more. The chain recently added a meatier option, though still plant-based: an Impossible Kebab. The falafel shop is open Monday–Friday, 11a–8p. 
Afternoon
Head to Castle Clinton in Battery Park and hop on a Statue Cruises ferry to the Statue of Liberty. The statue itself isn't open to visitors, but you can explore Liberty Island safely outdoors and get an up-close look at Lady Liberty. The Statue of Liberty Museum is open and features heirlooms, photographs and even the Statue of Liberty's original torch.  
Dinner
Benares (45 Murray Street) goes beyond dabbling in shallow Indian-fusion cuisine trends. Brothers Atin and Aankit Malholtra pride themselves on the restaurant's "melting pot" of chefs from different regions of India — including Rajasthan and Kolkata, as well as the neighboring country Nepal. Indian families have identified the dining room as a reliable source for home cooking dishes such as shrimp curry (cheema thenga) and leg of lamb in rum sauce (raan e akbari). 
Don't Forget To Treat Yourself When Back At The Hotel
In need of rest and relaxation after hoofing it on the streets all day? The spa at the Four Seasons New York Downtown includes a range of services, from manicures to immune-boosting treatments, to help you holistically unwind. 
Spa hours run 12p to 7p on weekdays, and 9a to 4p on weekends. Service times will be extended at no extra cost, and private group experiences will be available as well. Guests can contact the spa's wellness concierge at 646-880-1990, or email spa.nydowntown@fourseasons.com for bookings and more information. 
Morning
Leo's Bagels owner Adam Pomerantz first left the world of high finance for the world of bagels, and he has approached it with the passion of a perfectionist. His shop at 3 Hanover Square is always looking out for the safety of his customers, while keeping an usually high standard for bagel consumption. Pomerantz, a lifelong New Yorker, gave us the official rundown on how one properly stacks a lox-and-cream-cheese bagel sandwich. 
It's crucial wisdom for anyone residing in — or visiting —  the five boroughs. And while reading up on proper bagel etiquette, you can find plenty of seating along East River Esplanade or at Queen Elizabeth II Park.
Some Light, Post-Bagel Exercise
After that carbo-load session, head to Brookfield Place, where you'll lace up your skates and do some laps on its seasonal ice rink that overlooks the Hudson River. The rink is doing timed entry to keep capacity down, so be sure to reserve your tickets in advance. You can also opt for lessons if you're rusty on the ice or want to brush up on your triple axel. And, if you need a quick relief from the cold, the nearby Winter Garden atrium is a stunning and safe indoor space that's currently dressed with the Luminaries light exhibit.
Lunch
For a taste of Milan in Lower Manhattan, stay on at Brookfield Place and head to recently opened Italian coffee bar Sant Ambroeus, The coffee bar offers up the usual cappuccinos, gelato and homemade pastries, but also features some of Sant Ambroeus' more robust restaurant options including salads, pasta and even a few elegantly prepared seafood and steak options. 
For A Tipsy Outdoor Dinner Party
Pier 17 is using the cooling temps as an excuse to kick outdoor dining up a notch by winterizing The Greens, its seasonal rooftop dining concept. A reservation nets you your own 10-person-max rooftop cabin (there are 28 altogether), with banquette seating, a virtual fireplace, electric heating and other cold weather-friendly decor. Seasonally-themed dishes and cocktails include mushroom risotto, hot smoked toddies, mulled cider and chipotle beef stew. 
The Greens is open seven days a week, and reservation fees range from $5 to $50; you can book a cabin one week in advance. 
Still Need Some Convincing? Here's What Some Of The City's Most Avid Travelers Had To Say About Spending A Weekend Downtown.
Jessica Hirsch (@cheatdayeats) checked out the Oculus, One World Observatory and eateries like Crown Shy and The Fulton.
View this post on Instagram
Suzanne Cohen (@gothamlove) explored Downtown with the whole family, hitting up highlights like Eataly and Wall Street's Charging Bull. "After our weekend of exploring, sightseeing, dining and shopping I feel so lucky to call Downtown my home and sometimes I can't believe I… actually live here!" she said.  
Valerie Joy Wilson (@trustedtravelgirl) dug into Lower Manhattan's history, visiting The Beekman's historic atrium and the Seaport District. She also hit up the cabins at Pier 17's The Greens. "I love history and so it's been fun to explore the hidden history of all of these places I've visited Downtown," she said.
Tags:
influencers
,
Mess Around Downtown